Archive for the ' Uncategorized ' Category
Feb 4, 2016 Uncategorized
Happy Thursday everybody. Here are a couple throwbacks from not far back. In fact these photos were from the fall of 2015. The first photo is of me and Tanja Bechtler performing at the beautiful Mint Museum in Uptown Charlotte. The acoustics in the Mint are a musicians dream. Tanja Bechtler performed on her 18th century cello. The tone on that instrument is incredible and it was a pure delight to witness her masterful playing from up close. The photo below is from the television interview I was privileged to give to promote the concert along with Tanja and classical guitar virtuoso Aris Quiroga. I was honored to be invited by Aris Quiroga and perform in such an illustrious night of music right in the heart of bustling uptown Charlotte. If you are ever in the Charlotte area I highly recommend visiting the Mint Museum. The third photo is me in my studio presenting a project I recorded percussion on. The Ethos Project Volume II was produced by Eric Lige (San Diego, CA) and Vahagn Stepanyan (Armenia). I will be posting a review on the project via the Heartbeat for Worship soon. Currently I am working on my new project as well as helping to produce a project for a dear friend Joe Keen. I am excited about what 2016 will bring. Until next time!
-William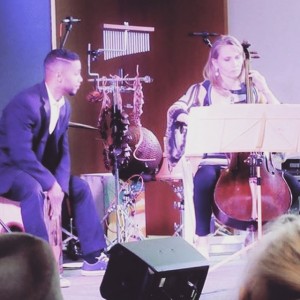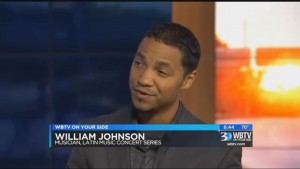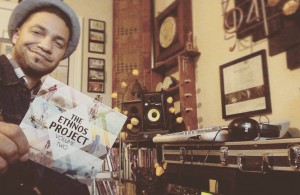 Jun 4, 2014 blog, featured, Learn Percussion, New CD, Uncategorized
Hello friends!
I have been quite busy lately with music and life in general. My new CD "Sacred Roots" (Raices Sagrado) will be released August 12th!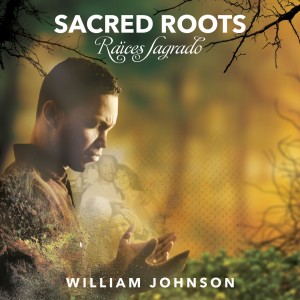 You can also watch a music video of the song "Como el Viento" from the album.

Also I still give percussion (congas, cajon, djembe, etc.) lessons online. Below is a recent video teaching series for learning the cajon in a contemporary setting. So if you would like to learn the congas, cajon, and more contact me at williamjohnsonmusic@gmail.com. I look forward to hearing from you!
William
Dec 16, 2013 Uncategorized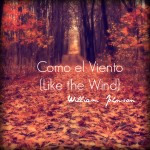 You can now purchase the first song from upcoming album "Sacred Roots".
http://www.cdbaby.com/cd/williamjohnson4
This song is a fusion of Cuban Latin percussion, Native American flute, pop-rock, with soulful vocals laying on a bed of warm electric guitar tones and jazzy keyboards.
The inspiration from the song comes from the scripture John 3:8.
Through the years I have been inspired in many ways by the beautiful colors of fall and the sounds the wind makes as it passes through dying leaves within the trees and also as they scrape across the ground. It is for me a very reflective time of year. To me it is a representation of change; of a time of transition. This song is about that… How many times do we get caught up in the busyness of life and miss so many precious moments and lessons. When we let go however, and take time to reflect and hear God's voice we are placed in a position to understand what it is Jesus was explaining to Nicodemus (John 3:8) all those many years ago…Como el Viento (Like the Wind)
Dec 15, 2013 Uncategorized
Hello everybody! I am very excited to share this new music video with you!!!!!
The song should be available for purchase and download Monday December 16, 2013
I pray you enjoy this first music video from the upcoming "Sacred Roots" project
Aug 27, 2012 Uncategorized
New world percussion clinic tour! Attention to all music stores, colleges/universities, churches, etc. Now booking dates for the percussion instruction world percussion clinic tour! Book William Johnson now for an inspirational and educational world percussion clinic. World percussion can be found in nearly every genre and holds an infinite number of possibilities with right dose of creativity and technique. We hope to see you soon at the next event!
Jun 27, 2012 blog, Uncategorized
A few months back I had the wonderful opportunity of assisting in worship on percussion for the Campbell University's School of Divinity Chapel. Prior to arriving on campus that morning I actually thought it was for the freshman. I was pleasantly surprised to discover it was actually for the Divinity school (I do love doing the freshman chapel service as well however).
Leading in worship (musically) was a good friend of mine and anointed musician Giles Blankenship. Giles has a unique way/gift of making you feel very comfortable in worship and the presence of the Lord. To discover his music or learn more about him visit www.gilesblankenship.com. I absolutely love worshiping with him. For the set I brought a cajon, foot pedal with tambourine bracket (I find this goes great with "CCM" type songs especially during the chorus), shakers, brushes for additional effects on the cajon, one conga, and some rattlers. It was an intimate service that I will most certainly not forget!
Also I had an opportunity to play again with one of my favorite guitarists Kyle Johnson. Kyle is on electric guitar on my latest project Flor de Vida.
The Campbell Chapel is an amazing venue. If you are ever near the campus you should stop by and check it out. The combination of cathedral ceilings, cedar wood beams, tall clear glass pane windows and stained glass make for a breathtaking view during the day from inside the chapel. The chapel is literally flooded with light during a clear sunny day. It was so beautiful to play those slow worship songs and to look out and see the light breaking through the room… breathtaking… Above is an actual photo from a rehearsal prior to the service.
I will never forget spotting a young lady sitting by herself meditating during the worship while we ministered in song. I love experiencing moments like that.
Jun 7, 2012 blog, Uncategorized
I know you may be wondering why there are no congas in this photo, but do not worry we will get to that…
I have been playing percussion now for about 13 years. Although I have an intense love for music and instruments from all over the world, the congas have a special and unique place reserved in my heart. For me, as a music lover, playing the congas is a calling. I love the violin, the piano, banjo, harmonica, guitar, etc. but the sound of percussion speaks to me on a personal intimate level that is hard for me to explain. For me the love of music is perhaps more about harmony than anything else. Thats why I love making music on everything from wine glasses to pots and pans (seriously). Of course I could go on about this and get really "artsy" and abstract in my explanation…but I won't (at least not now anyways haha). The reason I wrote this blog is not only to share my love for a particular instrument or sound but to encourage someone else who may be a lover of all things percussion, or anything that seems to abide in obscurity for that matter. I have often wrestled with the thought that I was made to be felt as inferior by others since I chose the congas as opposed to the piano or guitar. I have come to learn that over the years this has been probably more my own insecurities than anything else. I have however encountered many people from all walks of life who play the instrument and feel the same way. I have met many people who have come to learn the conga or percussion as a secondary instrument and later fell in love with it. Or they started playing percussion in church because someone was already on the drums. I really don't have either testimony. The conga was the first instrument I was serious about learning.
My love for the congas really started out as a love for the African style hand drums and World music in general. I am a worship artist and have been now for several years but initially my influences came from the likes of Paul Simon (Graceland) and Martin Cradick (Baka and Beyond), Gloria Estefan, James Taylor, Peter Gabriel, and probably way too many more to name (not to mention some that I may not know by name). These were my childhood influences and many included the sounds of world percussion. I was mystified by its infectious and visceral nature to make one want to dance. I still remember spending time with my father in the mall as an adolescent and the day he brought Martin Cradick's "Baka and Beyond" CD home. It changed my life and set me on a course of discovery. Little did I know that for me the deep passion and inquisitive mindset I had towards world music was really a hint to my calling. It would be a transitional moment for me and during a time in my life where I was heavily searching for identity. To this day if I hear that CD I am instantly carried away to that time in my life, with all the emotions, and memories of the era.
At the time I was also  truly in love with reggae music and the various cultures of the Caribbean. With the help of my father I made African style necklaces with carvings (by my father and I) and different color beads. I knew my family (the Garcia side) was from Puerto Rico but as I was growing up in Southern California and not around anything to educate me of the folkloric music of the island, my passion for it was not yet existent. In fact I didn't even play an instrument at all. No, that would all come some years later. Music was to me something I loved but always approached as a lyricist; not instrumentalist.
Well, although I was falling in love more and more with the rhythm of the Afro-beat I was still completely ignorant to the drum itself (probably due to my overwhelming passion for sports mainly being track & field). Four months after enlisting in the Air Force at the ripe age of eighteen I was living in central Germany. It was traveling in Europe, where I would truly fall in love with the African drum and begin my journey into the world of Latin music more closely related to the land of my grandfather. I remember being on a trip to Spain in the city of Marbella and stopping off at a huge pottery store on the side of the road. In the back of my mind I was wondering if this place would have any type of drums but knew that was highly unlikely. As I walked through the isles of this huge pottery outlet I spotted it… high upon the top shelf; a beautiful handcrafted doumbek ( a Middle Eastern goblet drum). I pulled it down and brought it to the cashier and as the rest was history. Well I could go into detail on the rest but that would probably bore you.
That trip was the first time I can remember the passion to play the drum burn in my heart. On the way back to Germany we stopped in Venice, Italy. I remember staring through a large glass store window at a rope tuned african drum hanging from a display. The memory of it is still vivid and I look back on that time as the my conscious beginning of a road to discover the instrument I now love to play today.
Jun 7, 2012 blog, featured, New CD, Uncategorized
Para leer en español, desplácese hacia abajo hasta la parte inferior. Perdonen mi español jejejej. Hablo mejor que escribo…
About two weeks ago now on memorial day weekend we did a video shoot for the song Heaven's Rainforest. Heaven's Rainforest is the last track on my latest CD Flor de Vida. We shot the video in the middle of the woods here in North Carolina… yes in the middle of the woods lol…
Thank God we did not encounter any snakes, black widows or bears. Well, I am sure to some of you (including our friendly woodsman and all around cool guy Kyle on guitar) encountering some very wild beasts would have been an added blessing haha. I admit it would have made the adventure even more exciting however even if we would have survived it my wife probably would never let me shoot another video in the woods again. bummer.
Heaven's Rainforest is a fusion track combining Latin percussion with flute, tibetan chimes, rainsticks, acoustic guitar, electric guitar, and the sounds of the rainforest. The rhythm is a modern pop style version/adaptation of an Afro-Cuban bata pattern. It was my aim to make a track that had a mellow meditation or worship feel but somehow stay true to the musical theme of the project. Everything about this track says fusion to me; from coqui frogs (from Puerto Rico) in the very beginning, to the forest preserve sounds taken from Australia, to the flute and string pads recorded in Ireland, and pin chimes from Nepal, this song to me is like taking a trip around the world on a musical platter…
I am very much looking forward to sharing this new adventure with everyone. After the video is released we will also make a behind the scenes making of the video as well. Thank you guys for all of your continued support! Prayerfully this video will be released next week! Stay tuned for exact details.
William
Hace unas dos semanas ya los fines de semana Día de los Caídos que hicimos una sesión de vídeo para la selva tropical de la canción Cielo. Selva del cielo es la última pista en mi último CD de Flor de Vida. Grabamos el video en el medio del bosque, aquí en Carolina del Norte … sí en el centro de la lol maderas …
Gracias a Dios no nos encontramos con las serpientes, las viudas negras o los osos. Bueno, estoy seguro de que algunos de ustedes (incluyendo nuestro leñador amable y fresca en todo tipo de Kyle en la guitarra) tropieza con algunas bestias muy salvaje habría sido una bendición adicional jaja. Admito que habría hecho la aventura aún más emocionante sin embargo, incluso si hubiera sobrevivido a mi esposa probablemente nunca me hubiera dejado hacer otro vídeo en el bosque de nuevo. rollo.
Selva del Cielo es una pista de fusión que combina la percusión latina con la flauta, campanas tibetanas, palos de lluvia, guitarra acústica, guitarra eléctrica, y los sonidos de la selva. El ritmo es una versión pop de estilo moderno / adaptación de un modelo afro-cubana bata. Era mi objetivo de hacer una pista de que había una meditación o adoración siente suave pero de alguna manera fiel a la temática musical del proyecto. Todo acerca de este tema dice que la fusión para mí, de las ranas coquí (de Puerto Rico) en el principio, a la reserva forestal sonidos tomados de Australia, a la flauta y las pastillas de cadenas grabando en Irlanda, y el pasador de los carillones de Nepal, esta canción a mí es como tomar un viaje alrededor del mundo en un plato musical …
Estoy muy ilusionado de compartir esta nueva aventura con todo el mundo. Después del video se libera también vamos a hacer un detrás de cámaras que hacen del video. Gracias chicos por todo su apoyo! Con oración, este video será lanzado la próxima semana! Estén atentos para más detalles.
William
Aug 16, 2011 Uncategorized

Have you ever wanted to learn hand percussion? I am now offering individual lessons via Skype. Learn how to play the congas, various hand drums, auxiliary percussion, and applicable music theory. I also run a percussion instruction podcast on itunes. The podcast can be found at
http://itunes.apple.com/us/podcast/percussion-instruction/id303492612
Join the thousands of others who have benefited from this resource or contact me for individual lessons via Skype.