The Autumn season has come and winter is upon us. It has been a busy year for me as I have spent it writing and defending my masters thesis. I am excited to announce that I have successfully passed my thesis defense this past summer and finished the ethnomusicology graduate program at Liberty University. That being said, while my music pursuits focused upon my research writing, I was able to participate in several exciting recording projects, live performances, volunteer in school events, and serve on a few different worship teams. Below are a few highlights from the end of spring/beginning of summer including a video I participated in at the end of last year. I am not sure if I published a blog about it so I will do so here. Later this month I plan to publish a post about a few performances I participated in this Fall/Winter.

Last December Vahagn Stepanyan released a video song production titled "So Good" on Youtube. I tracked percussion on this song and it can be viewed at https://www.youtube.com/watch?v=W9SPzwiJFhI
So Good features Vahagn Stepanyan (Armenia) on keyboards, Eric Moore on drums, Melvin Lee Davis on bass, Feodor Dosumov (Russia) on guitar, and myself on percussion. It was mixed by Alen Konakoglu at The Kulube Istanbul, Turkey and mastered by Randy Merrill at Sterling Sound, NYC. The amount of talent on this production is astounding. From the incredible musicians to the premier video production, So Good indeed lives up to it's namesake. Each one of the musicians on this track have amassed a hugely impressive resume performing and recording for artists such as Chaka Kan, Adele, Suicidal Tendencies, Sly & the family Stone, Don Moen and more. The cool thing about this video is all the audio parts were video recorded as the session was happening and mixed later, hence what you are seeing from each individual musician is the actual parts that were recorded giving a "live" feel. Vahagn Stepanyan has recently released another video titled Without Limits featuring some incredible musicians including one of my favorite percussionists Richie Gajate Garcia. Check it out!
In May I had the opportunity to glean some recording advice from the incredibly talented Stephen Lee Price. Stephen is an amazing recording engineer who has recently opened up a new recording space that is absolutely stunning. Stephen has been involved in several great projects including John Mark Mcmillan's Live at the Knight album, Chad Lawson's Chopin Variations, Aradhna Live in Concert, and many more. He has also contributed his engineering talent to the new Lore series airing on Amazon. My visit with Stephen was exciting for me since I was looking forward to meeting one of the integral pieces to so many beautiful projects I have been a fan of over the years. Stephen Lee Price has a way of helping instruments and vocals sound so big yet intimate. I particularly love his work on percussion and strings. Listen to the Songs of Water selections on his website (in the discography section) and you will hear precisely what I mean. Interactions such as those like my time with Stephen Lee Price is what my life has been about more and more these days. I have found over the years that technical know how, trade secrets, and networking are all important to the development of a professional in any industry, however for me just as important is getting to know the person and hence the personality behind genius. Listening, and genuine conversation through honest curiosity of discovering someone else's story often reveals answers to questions you didn't know to ask. I am not sure how much technical specifics I learned with my consultation with Stephen, however I sure did learn a ton about making a solid recording. For me the learning adventure never ends. Thanks Stephen!
Moving into this past summer; the photo above captures me playing a hybrid drum kit (yes that is a vintage suitcase I am playing as the kick drum. I currently have about a dozen of them I will be repurposing as kick/bass drums for sale) with Dan Rush and 7North. 7North is a band I play percussion for. Dan Rush fronts this incredible and energetic band based out of Pinehurst, NC. In the photo above we were performing at the Pinehurst Resort Country Club Pool cabana. It was a lively two hour set full of blues rock and pop. I look forward to playing with Dan Rush and 7North again soon! Local events (in the town I live in) have been rare for me over the last couple years however I am looking forward to hopefully changing that. If you are looking for an energy filled, family friendly live blues rock, country, and pop band with positive energy then Dan Rush & 7North is your band!
This summer I have been working with Eryn Jones Fuson on her upcoming indie folk album in my studio here in North Carolina. There have been some beautiful and amazing moments that I have been privileged to experience. On one particular song, Eryn's parents traveled from Tennessee in order for her father to track vocals on a song that he wrote many years ago that will be included on the album. What an honor to be a part of such a beautiful and landmark moment for this family and all who will be blessed by the song. Eryn's project Trail of White will be released this December. I will post more about it in an upcoming blog. In the meantime you can learn more about Eryn at her website www.erynjones.com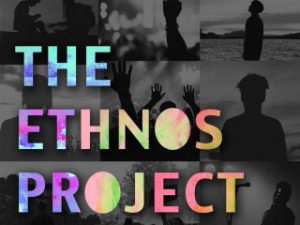 The Ethnos Project is a compilation of worship songs in different languages from around the world including different music styles influenced by their cultural and geographical locations. I had the privilege of tracking percussion on several of the songs for the third volume. I truly enjoyed being a part of the second volume a couple years ago and this time around was no different. All of the songs are beautifully arranged and produced by executive producer Eric Lige (out of San Diego, California). Of course, a project worthy of any substantial accolade does not exist without the efforts of a support system and those adding their efforts/skills. The Ethnos Project has just that; an effective and amazing team. Actually it is more fitting to say that the Ethnos Project (Volumes) is a team. In fact, although I mentioned Eric Lige, he himself refers to "we" when speaking of the Ethnos Project. Anytime I can be a part of a project that employs a team of like minded worshippers, and talented musicians with individual sensibilities all from diverse backgrounds is a bonus in my book. All of this being said The Ethnos Project Volume 3 was additionally produced by music director Vahagn Stepanyan (Armenia 🇦🇲 ), Andy De Los Santos (USA 🇺🇸 ), and mixed by Alen Konakoglu (Turkey 🇹🇷 ). The Ethnos Project Volume 3 is truly an international project including artists and songs from five continents. The album will be released this January and available for can be preorder for the next week or so at https://www.indiegogo.com/projects/the-ethnos-project-volume-3-music-diversity#/
I will write more about the Ethnos Project in detail in an upcoming blog.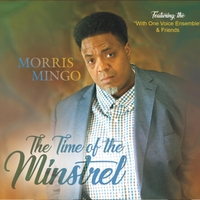 Morris Mingo is an accomplished musician out of Cincinnati, Ohio that has toured with award winning artists and recorded on Grammy nominated albums. A few months back Morris reached out to me about recording congas and various other percussion on a couple songs for his Gospel project The Time of the Minstrel. Morris's album includes some of the finest musicians in the Gospel arena and beyond. Such artists include Gospel recording artist Darwin Hobbs, Drummer and producer Aaron Spears (Usher, Israel Houghton and many more), and many more. The list is quite extensive and overall the album is a beautiful compilation of purposeful songs. I will also write more about Morris Mingo's album in an upcoming album very soon.
It has been a full year. I am overwhelmingly blessed and excited for more beautiful things to come; not just events or accolades but the journey of life and the relationships that I am honored to be a part of.
William