The Sounds of Latin Percussion, Rock, Pop, Gospel, Jazz, R&B, and Influences From Various World Folkloric Traditions
William Johnson Band
William Johnson is available for booking either with his full band or a smaller acoustic group. William's band performs originals from his three solo projects Freedom…Joybeat, Flor de Vida, Sacred Roots and new compositions songs. Below are a couple music videos from two of Johnson's albums. You can also listen to William's other music on his Soundcloud.
For Booking contact williamjohnsonmusic@gmail.com
Mid Coast Swing (Acoustic Duo with Cip Garcia)                                                                                                     
William also performs with Mid Coast Swing. This acoustic duo (William Johnson and Ciprian Garcia) performs a wide range of genres including Latin fusion, pop, jazz, instrumental, and blues. Mid Coast swing comprises of world percussion, acoustic and electric guitar, and vocals. Mid Coast is available for covers and orignal music.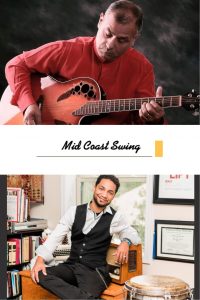 Various Press & Review Quotes: For More Visit the Press Tab On This Website
"Johnson's outstanding compositions are sophisticated and lyrical but always with a rich and hard rhythmic foundation."
Wilbert Sostre – Latin Jazz Network
"…Johnson is obviously a musician with eclectic tastes; so it stands to reason that he would want to add some variety to this 2011 release. Flor de Vida is fairly unpredictable, and that is a good thing…"
Alex Henderson – Alex Henderson; Contributing Writer for All Music Guide, Jazzizz, Jazz Times
Other Credits & Press
"Nelson Rodriguez Top Latin Jazz CD's of 2011"
Nelson Rodriguez – Latinos Unidos
…musica es muy maravillosa y su trabajo en lo espiritul me ha conmovido…" "…The music is beautiful and spiritually moving…"
Lucho Bilongo – El Tren Latino WRFL 88.1FM Lexington, Kentucky
"…"Flor de Vida" (Flower of Life) is the latest production by percussionist William Johnson, in conjunction with two L.A. Cuban friends -percussionist Luis Conte and keyboardist/pianist Alberto Salas. What I loved about this CD is how many of the songs were inspired by Biblical passages."…"
Nelson Rodriguez – Latin Beat Magazine
"Top Selling Album; Latin Genre & World Beat; CD Baby"
CD Baby – CD Baby
"Editors Pick; Descarga.com"
www.descarga.com – Descarga
"…William took our Zumba Fitness class to a whole new level with his wonderful live percussion! His passion for music and love for people shined and transmitted through his music. I use his music in my Zumba fitness classes…"
Meshelle Williams; Premier Zumba Instructor, Racine, Wisconsin – Fun Fitness Concepts
"…Williams released his contemporary solo debut, "Freedom Joybeat," in 2009. But on his latest project, "Flor de Vida," Williams dabbles in Latin jazz music and collaborates with artists like Grammy Award winners Luis Conte on timbales, surdo, bells, and vocals; and Mark Faine, on upright bass. Other participating acts include acoustic guitarist Alex Anders, saxophonist and flutist Michael Parlett and drummer Daniel Willy…"
Jessica Duvault – Fayetteville Weekend