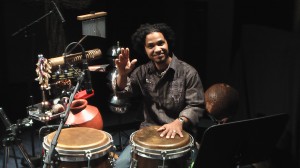 Hey!
Over the last two decades I have:
• Played in front of thousands of people on stage with several Grammy award winning artists and speakers.

• Been able to travel with my congas and have been blessed to get paid to do what I love. (Playing percussion of course!)

• Have been able to play percussion with bands rounding genres from traditional Latin, pop, Celtic, Gospel, and contemporary rock just to name a few.

However, even after playing in front of thousands I still receive great joy when I am able to pull out a drum during a family gathering and enjoy myself as I watch family members dance around the drum.
Whatever your reasons are for learning to play the cajon, congas, bongos, or other percussion instruments I have learned that the single most critical thing when it comes to learning is to practice CORRECTLY. Learning the correct techniques will not only get you playing faster, but they will also protect your hands from one of the many injuries that incorrect conga players suffer. Over the years I have taught hundreds of students via the internet, in person, and have enjoyed seeing them move from the frustration of trying to learn to becoming passionate about new techniques through my lessons. Here are some samples of what my students have said about their lessons with me:
"Anyone interested in the application of Latin percussion… will find William's chronological step by step unveiling of wisdom to be highly beneficial." – Michael Cooley
"This is very good instruction. Very easy and simple…Nothing is left out. Easy to follow!" -Willie J

"Of the conga instructions I have found…yours [William's] have been the most helpful, and a great blessing to boot." – Youtube user
By conducting lessons via Skype, I have been able to personally interact with my students to ensure they are understanding and playing the techniques correctly as we interact through the video lessons.
As I stated earlier the most important thing to learning congas is to practice correctly. If there were one other piece of advice I could give you about learning percussion it would be this:
Don't procrastinate. The longer you wait to take lessons the longer it will take to learn.
Send me a message at williamjohnsonmusic@gmail.com and I'll answer all of your questions about my Skype Percussion lessons.
williamjohnsonmusic@gmail.com
William J
Current students use Paypal button below to pay for lessons.
Video Lessons:
There are several tutorials on my YouTube page. The following video is from the latest series ( new videos are uploaded every Saturday morning with bonus episodes published throughout the week) and below that is a mix of previously published videos over the last few years.
Latest series:
Congas in contemporary worship
Congas in funk style music
How to play cajon Part 1.


Percussion Instruction DVD Volume 1; Learn Congas