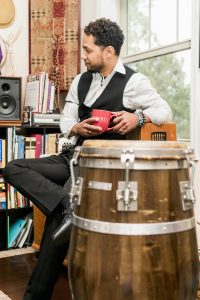 Welcome to my music instrument blog,
Here you will find a cacophony of ethnomusicological musings, descriptions, and observations. In other words just a small corner of the world wide web to learn about different instruments and the people and cultures from which they originate. Everything from instrumental organology 〈organizational classification of instruments〉, history, anthropology, phenomenology, and culture of new instruments will be added bi-monthly. While I am primarily a percussionist, I also dabble in wind instruments (mainly being wooden and bamboo flutes) hence, this blog also features various other instruments from the string and brass families. I have always been fascinated with world cultures and music. Over the last twenty five years or so (who's counting?) I have been blessed to travel to multiple regions of the world and throughout the United States. I have continued to immerse myself in the popular musical folk styles of my own parents cultural music of Puerto Rico and the U.S. as well as branching out and becoming a perpetual student of various Latin American, Middle Eastern, East Indian, West African and European genres. After years producing and arranging several of my own projects, recording percussion to other artists projects, performing, and teaching, I decided to further my educational and professional pursuits by completing a graduate program in ethnomusicology. Upon finishing my studies (I am sure I will be updating this detail soon as a doctorates in this field is an honest possibility) my appetite has only grown to an insatiable desire for more. It is only in sharing what information I feel led to give away that I am truly left satisfied and purposed. Here's to the unending adventure of learning. God speed and I pray I don't bore you too much.
The most current article will be the one immediately following this introductory paragraph. If you would like to learn more about any particular instrument and the information given does not suffice, feel free to email me at williamjohnsonmusic@gmail.com.
Conga Drum (Tumbadoras) article coming soon.