Apr 18, 2011 blog, New CD
Posted by William Johnson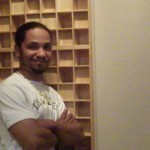 Hello everyone! i just wanted to post again about the new jazz album coming out this June! It is going to be a fusion of latin Jazz, jazz, rock, new age and world beat. I am very excited about all of the tracks and how they are coming together. Michael Parlett, an internationally acclaimed saxophonist and flutist from London (he has recorded and performed  with Darlene Zsech of Hillsong, Najee, Norman Brown, Eric Benet and many others), has helped me to produce an amazing track to express the joyfulness of life and how fleeting it is. So far there are at least three Grammy award winning artists and four other internationally acclaimed musicians that have contributed to this project. It is not my ultimate plan to create just another latin Jazz or great world music album but to express with this style of how fleeting life is and yet how eternal and holy God is. God is the creator of all these wonderful textures of music and they are to be used to express his greatness and bring glory to the wonderful name of Jesus. Most of the tracks are instrumental and it is my prayer that they will be used as a prayer, meditation, and evangelistic tool to this generation! More to come soon!