The last several weeks has been full of unique music & ministry experiences. I started to make this post solely about events that took place in the month of June, however I decided to add a few memorable weekends of May as well. Most of my blog posts are music related hence some of the very special moments that are more personal and not necessarily music related (such as this year's mother's day) are left out… just in case anyone was wondering. I have been blessed to experience many intimate moments in worship, music and beautiful conversations with friends old and new. The last month and a half has been full of such beautiful moments.
May 5-6th: Christ Community Church, NC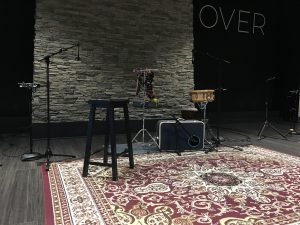 I love going to Christ Community Church. I usually bring at least one different instrument each time I go (not intentionally however). For this particular Sunday I brought the "Blue Beauty" vintage suitcase kick and my Gretsch contoured wood hoop snare. I decided to play standing up for the three services, so I placed the snare on my bongo stand base to raise it up. It was a great thought and it allowed me a freedom to dance around a bit, however my left leg was getting a serious workout (as it was supporting nearly all my weight). Weekends at CCC are always special. May 5th was no different.
May 19th, 2018; Lynchburg, VA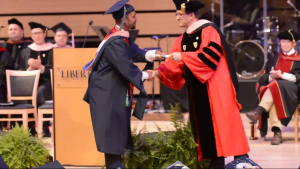 Graduation ceremony! I finished my masters of arts in ethnomusicology this past November however I participated in this Spring's commencement activities. Graduation on just about any level is emotional; especially when their are moments when you doubt it will ever happen. Ideally I would have completed my degrees prior to marriage and children. Life however, takes twists and turns. Often these transitions turn (no pun intended) out to be the best for us. Completing this program as a father has been more meaningful to me then I could have ever imagined. I have been able to witness the support of my family in such potency that I had no other choice but to be emotional. To participate in the graduation ceremony in the new music concert auditorium was a treat to say the least. Liberty's new concert auditorium is one of the most state of the art facilities in North America. To read more about it visit here .
The ceremony started off with praise & worship, and a couple moving remarks. It was the final prayer that moved me the most. The music program has made a tradition of having the graduates find their families and pray with them. I had personally never experienced any program do that at a graduation. The dean of the music department gave a disclaimer that it may take a while however the program felt it was an important moment and one that should be done with those closest to the graduates. Although I was blessed to be there with my family, even if I wasn't, I have to admit that the staff and fellow classmates truly felt like family.
June 3rd; The Point Church- South Raleigh Campus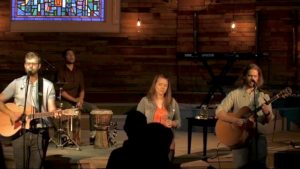 On June 3rd I served with the beautiful folks of the South Raleigh Point Church campus. I have been friends with the worship pastor Matt Granger for years now and it has been a wonderful experience to worship with him, his wife, and the entire worship team, staff and congregation. The Point Church has several campuses in the Triangle region of NC and I have had the privilege of serving at a couple of the locations. Such big hearts. I really enjoy my time at the Point. You can find the live broadcast from the service here .
June 8-10, East meets West Worship Concert with Suzy & Kamran Yaraei, Awake Church, Winston Salem NC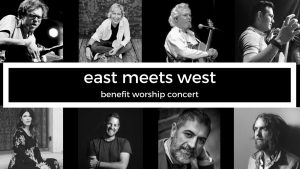 The beginning of June held so many beautiful moments. The East Meets West worship concert was surreal. The thing I will take away the most from this weekend was the time of fellowship with friends old and new. I hesitate to even write about it since there was so much to speak about. To have the privilege to minister songs in both English and Farsi (and soon Arabic) in a worship context makes my heart beat for joy. The years I spent in the Middle East were special to me. I have always felt a connection to many of the people and cultures from various nations within the larger region often referred to as the Middle East. Well, honestly I just love people in general… but that being said I have often felt an intimate connection with the music, architecture, landscapes, food (of course the food…and coffee! yum yum goodness), music, and the heart of the many kind people. I would be lying if I said it was all good. Of course, I did experience difficult times as I traveled across the Middle East, however, in this life we don't have to travel far to experience hardship. All of the people in the photo above have some type of special connection to who I am and who I am becoming. It was great getting to know and connect with such talented musicians and all around good human beings. The photo is only a snippet however; there were so many more beautiful souls with talent oozing from every part of their being. When I minister, or perform somewhere, I like to get out and meet the people amongst the crowd. We all get to take our turns being "someone in the crowd," and we all have very special stories (yes, you too my friend). This particular weekend did not disappoint. I met so many wonderful new friends and heard some great stories. Below are a few photos from the concert by Garrett Lee Walker. You can view more of his incredible work at https://gwphoto.myportfolio.com/work
June 19th, 2018, Thomasville, NC
On June 19th or Juneteenth (what I prefer to call it. If you are not familiar with this saying it is the day many celebrate the emancipation of Black slaves in the United States.) I had the privilege to lead a group of boys from the Cameron Boys Camp in an original drum composition in front of all of the Baptist Homes of NC staff and members during their ministry reunion day event. I had been working with the boys for a few weeks on this event and it was a true success. I know the boys will remember this day for the rest of their lives, however they are not the only ones; I will too. I love what I do, and I love when I get the opportunity to pour into the lives of others. About six or seven hundred people poured into the church and the boys totally rocked it! They were so proud of themselves, as well they should be.
June 23rd at Thagards Lake, Whispering Pines NC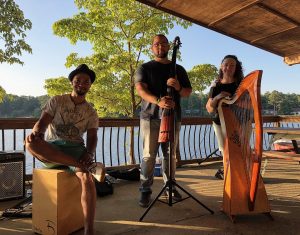 I put together a fantastic trio to provide music for a private event (Meese Property Group Summer Event). How often do you get to play a trio of harp, electric upright bass, and percussion on a beautiful lake? This was a fun day. Thank you Meese Property Group for the invite. If you are looking to buy or sell a home check out Meese Property Group in NC. https://meesepropertygroup.com
Well, I could go on and on… until next time!
Will