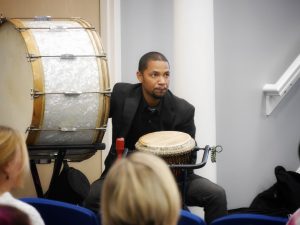 It is a beautiful Monday morning here in central North Carolina as I sit at my desk writing this blog post. Currently the sun is shining brilliantly outside and the spring blossom of flowers outside my studio window is as welcoming as it gets. I have had the blessed privilege of participating in some really nice events over the last several weeks and just wanted to post an update since there is more soon to come! In the photo above I am accompanying the Sandhills Classical Christian School choir for their Spring concert. I truly enjoy working with young people. I continue to have the opportunity to volunteer and work with students of all ages and it is highly rewarding for me to say the least. I consider it a calling. One of the greatest rewards for me is when I become a part of another family's life by sharing in their special moments. In these times I get the precious opportunity to become a part of their life as a fond memory and for the student, hopefully a landmark of some sort that promotes/evokes passion, continued pursuit of education, creative freedom in expression, etc. Some even go on to be inspired to play an instrument and that is truly humbling to me. The following day after this event I participated in an after school program anniversary fundraiser dinner and accompanied a young man who is an aspiring musician himself. What a joy and a blessing for me to have these opportunities. I feel blessed that they come often. Sometimes I have to pause to recognize the significance of the moment. My life is busy with being a full time musician, a husband, and father. It is quite easy for me to look at it as just another event. Each event however, is intimately attached to people, and therefore more important than often possible to recognize. I try not to take it for granted and stay spiritually and emotionally engaged (present).
A couple weeks ago I also played at the Pinehurst Resort Country Club in the ballroom. What a beautiful evening of music making and socializing. I put together a trio of world percussion, harp, and violin. It was an amazing time. There were several technical difficulties concerning my PA system but we managed to make our way through it and received positive feedback and more importantly created new beautiful memories. The music was described by some as an entertaining relaxing warm hug. I can't complain with that!
This past weekend I ministered on percussion at Christ Community Church here in the Pinehurst area. I am blessed to minister at CCC on occasion throughout the year. Outside of where I regularly worship and serve, Christ Community has become like a second ministry home. Of course I mean this in no disrespect to the other amazing and beautiful ministries that I also serve at. I mainly speak in terms of frequency, locality, and the many new friends made over the last couple of years. I truly love it there and always feel welcomed. I was at CCC this past Easter and it was nice to return again this past weekend. I decided to use a slightly different setup than I normally do. I even switched roles as I was playing with a percussionist. I am usually the one on auxiliary percussion or additional percussion (not the drum set role). This time I was filling the "drum set" roll. It was a beautiful weekend. I pray I never get over looking out over a congregation and seeing people sing, raise their hands, dance, cry, laugh with full joy, etc. There are moments as I am playing that I barely feel the work of my own limbs making music and I am just praising God and witnessing the moment as through a window. It is a gift that I do not feel worthy of.
For the rest of May I will be focusing on practicing, my YouTube channel and preparing for a ministry event with Suzy and Kamran Yaraei on June 9th, 2018 in Winston Salem, NC. It is a concert/fundraiser event. I will be on percussion with my friends Stephen Roach, Luke Skaggs, and Michael Pritchard from the Songs of Water Band. Below is a link to the event. This will be an amazing time. If you are able to attend I highly recommend it!
http://www.suzyyaraei.com/itinerary/
Here is a link to my latest YouTube video. It is part of my Three Minute Studio Session Series. It features Eryn Jones Fuson on harp, Crystal Scott on background vocals, and David Johnson on strings. The song "Dancing Trees" was mixed by Neil Brown and mastered by GAT3 studio in Charlotte, NC.