Archive for the ' featured ' Category
Apr 17, 2017 blog, featured, Learn Percussion
Hello all! I am excited about new projects coming up that I have been working on! On the academic route I am still plugging away at my thesis and will be finished with my ethnomusicology M.A. this summer! I am hoping and believing this will be the year that all of the plans for a drum and percussion academy in Downtown Southern Pines will be completed and I will be able to move forward in seeing this longtime dream manifest. I am still giving lessons online via Skype and also Whatsapp. Email me at williamjohnsonmusic@gmail.com for more information about music and percussion lessons. Whether you are desiring to learn more about percussion, or even taking some lessons on improvisation and building your musical theory ability, I am happy and available to assist you on your musical journey.
I have released a new song a few months back titled Your Presence and it is available here on itunes or on the following links:
Amazon: https://www.amazon.com/Your-Presence-William-Johnson/dp/B01MY5KNZ1
CD Baby: https://www.cdbaby.com/cd/williamjohnson5
This May I will be launching a new Youtube video performance series I am titling "Three Minute Studio Sessions." These sessions will be filmed and recorded mainly from my personal recording studio featuring various artists performing with me live including additional overdubs. The first episode is of a song called Dancing Trees and features harpist Eryn Jones-Fuson. Dancing Trees is a indie fusion song with a cinematic approach. I look forward to sharing it!
Until then my friends here is a small video clip captured from my iphone of a praise and worship song (Bless the Lord by Jermaine Rodriguez) I played percussion on at Christ Community Church in Pinehurst, NC. It was a beautiful time of worship unto the Lord!
If you are wanting to know more about this amazing song you can find it here!
Jun 4, 2014 blog, featured, Learn Percussion, New CD, Uncategorized
Hello friends!
I have been quite busy lately with music and life in general. My new CD "Sacred Roots" (Raices Sagrado) will be released August 12th!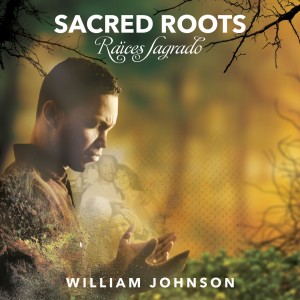 You can also watch a music video of the song "Como el Viento" from the album.

Also I still give percussion (congas, cajon, djembe, etc.) lessons online. Below is a recent video teaching series for learning the cajon in a contemporary setting. So if you would like to learn the congas, cajon, and more contact me at williamjohnsonmusic@gmail.com. I look forward to hearing from you!
William
Nov 2, 2012 blog, featured, Learn Percussion

Hello everyone! Many of you may already know that I also teach percussion online via Skype. I wanted to upload a video to give you an example of what a lesson with me may look and sound like. Of course, however, it all depends upon our connection speed but give me a shout and let's learn together! I teach hand percussion, timbales, basic music theory, ambient percussion (using different types of shakers, chimes, rattlers, etc. to add texture and color to the music), and more. If you have always wanted to learn how to play the cajon, congas, or how to apply world percussion in your ensemble, band, or worship team contact me and I will be in touch with you asap! It has been a blessing to be of assistance to so many from as far as California, Australia, the UK, and more! I look forward to hearing from you!
William
Sep 25, 2012 blog, featured, Learn Percussion
Sorry guys we have been about a week behind on the Volume instructional DVD.
Learn Percussion Volume 1; Congas Instructional DVD Pre-order today for only 15.00 including shipping! Item ships Friday Sept 28,2012
Sep 21, 2012 blog, featured, Learn Percussion
New Instructional DVD series! Today I will be posting a link to purchase the first in a series of instructional DVDs on how to play world percussion instruments. The link to purchase will go up around 7:30p.m. (look under products page). This first DVD will be on playing the congas. Some of the things taught in the DVD are;
– basic exercises to develop good tone
– basic to intermediate rudiments
– mano secreta
– Tumbao, guaguanco, bomba (xica), pop patterns
The DVD should be a great addition to your library and is only $12.00!
I recently acquired a new Puerto Rican cuatro. It is in the mandolin family I believe. Although I have been taking vocal lessons and learning some piano this cuatro is a whole new adventure for me. I started learning on a classical guitar years ago but since I did not have the love and passion for it like on the congas and other world percussion it just never stuck with me. With the cuatro however I am motivated by my love for the Puerto Rican culture, and people (It is the land of my Grandfather and uncles. My mother was one of the first of her siblings to be born in the States). The cuatro seems to have a large potential for versatility. If I desire a warm sound for classical styles or a high bright and folkloric sound for Aguinaldo it is all there. I am giving myself six months before I go public with my playing. I have a veracious appetite when it comes to learning a new instrument so don't be surprised if I sound like a seasoned veteran when you hear me…OK well maybe that is not very humble of me haha… Just throwing in some light humor for you guys. Seriously though, I am believing for some great things and have faith that God will bless my fingers to play this instrument well. After all, it is all for His glory, and my intention to touch hearts through my music. Until next time my friends…
Lo siento de antemano por la mala jejeje españolas
Recientemente he adquirido un nuevo cuatro puertorriqueño. Es en la familia de la mandolina creo. Aunque he estado tomando clases de canto y piano, aprender un poco de esta Cuatro es una aventura totalmente nueva para mí. Comencé a aprender en un año de guitarra clásica atrás, pero ya que no tienen el amor y la pasión por ella como en las congas y percusión otro mundo simplemente nunca me quedó grabada. Con el cuatro sin embargo, me siento motivado por el amor a la cultura puertorriqueña, y la gente (es la tierra de mi abuelo y sus tíos. Mi madre fue una de las primeras de sus hermanos en nacer en los Estados Unidos). El cuatro parece tener un gran potencial para una mayor versatilidad. Si desea un sonido cálido para los estilos clásicos o un sonido de alta brillante y folclóricas para Aguinaldo es todo lo que hay. Me estoy dando seis meses antes de hacer pública mi forma de tocar. Tengo un apetito veraz cuando se trata de aprender un nuevo instrumento, así que no te sorprendas si sueno como un veterano cuando me escuchas … OK, así que tal vez no es muy humilde de mí haha … Justo arrojando un poco de humor luz para ustedes. Hablando en serio, estoy creyendo por grandes cosas y tener fe en que Dios bendecirá mis dedos para tocar este instrumento también. Después de todo, todo es para su gloria, y tengo la intención de tocar los corazones a través de mi música. Hasta la próxima mis amigos …
Sep 19, 2012 blog, featured, New CD
Hello everyone out there in cyber-land! It has been a while since my last post and I am hoping I can alleviate my trend of scarce postings in the next couple of months. I have been very busy in the last couple months with writing songs for my third album "Mas Que un Sentimiento", video tutorials, rebranding/organizing for the multi-cultural concert Heartbeat for Worship and preparing for next year's summer festival season. I have spoken to some amazing musicians from all over the U.S. about collaboration on the new CD so I am very excited to see how it will come out. "Mas Que un Sentimiento" or More Than a Feeling is a world music, contemprary, rock and latin Jazz fusion project that will be hopefully due out this winter. I am planning to implement an even more folkloric feel with heavy percussion driving the music. In the meantime Flor de Vida is still available here via CD Baby, itunes, Amazon, and more.
Looking for a Latin Jazz band, cultural/ folkloric band, rock/fusion band? If you are a jazz, music, or cultural festival and concert promoter and interested in booking please feel free to contact me here (on the contact page there is a form that will go directly to me and my management team). You can also email me at williamjohnsonmusic@gmail.com.
God bless you guys and have a great week!
Well here it is! The official music video for Heaven's Rainforest from the album Flor de Vida. I pray it blesses you!
William

Jun 7, 2012 blog, featured, New CD, Uncategorized
Para leer en español, desplácese hacia abajo hasta la parte inferior. Perdonen mi español jejejej. Hablo mejor que escribo…
About two weeks ago now on memorial day weekend we did a video shoot for the song Heaven's Rainforest. Heaven's Rainforest is the last track on my latest CD Flor de Vida. We shot the video in the middle of the woods here in North Carolina… yes in the middle of the woods lol…
Thank God we did not encounter any snakes, black widows or bears. Well, I am sure to some of you (including our friendly woodsman and all around cool guy Kyle on guitar) encountering some very wild beasts would have been an added blessing haha. I admit it would have made the adventure even more exciting however even if we would have survived it my wife probably would never let me shoot another video in the woods again. bummer.
Heaven's Rainforest is a fusion track combining Latin percussion with flute, tibetan chimes, rainsticks, acoustic guitar, electric guitar, and the sounds of the rainforest. The rhythm is a modern pop style version/adaptation of an Afro-Cuban bata pattern. It was my aim to make a track that had a mellow meditation or worship feel but somehow stay true to the musical theme of the project. Everything about this track says fusion to me; from coqui frogs (from Puerto Rico) in the very beginning, to the forest preserve sounds taken from Australia, to the flute and string pads recorded in Ireland, and pin chimes from Nepal, this song to me is like taking a trip around the world on a musical platter…
I am very much looking forward to sharing this new adventure with everyone. After the video is released we will also make a behind the scenes making of the video as well. Thank you guys for all of your continued support! Prayerfully this video will be released next week! Stay tuned for exact details.
William
Hace unas dos semanas ya los fines de semana Día de los Caídos que hicimos una sesión de vídeo para la selva tropical de la canción Cielo. Selva del cielo es la última pista en mi último CD de Flor de Vida. Grabamos el video en el medio del bosque, aquí en Carolina del Norte … sí en el centro de la lol maderas …
Gracias a Dios no nos encontramos con las serpientes, las viudas negras o los osos. Bueno, estoy seguro de que algunos de ustedes (incluyendo nuestro leñador amable y fresca en todo tipo de Kyle en la guitarra) tropieza con algunas bestias muy salvaje habría sido una bendición adicional jaja. Admito que habría hecho la aventura aún más emocionante sin embargo, incluso si hubiera sobrevivido a mi esposa probablemente nunca me hubiera dejado hacer otro vídeo en el bosque de nuevo. rollo.
Selva del Cielo es una pista de fusión que combina la percusión latina con la flauta, campanas tibetanas, palos de lluvia, guitarra acústica, guitarra eléctrica, y los sonidos de la selva. El ritmo es una versión pop de estilo moderno / adaptación de un modelo afro-cubana bata. Era mi objetivo de hacer una pista de que había una meditación o adoración siente suave pero de alguna manera fiel a la temática musical del proyecto. Todo acerca de este tema dice que la fusión para mí, de las ranas coquí (de Puerto Rico) en el principio, a la reserva forestal sonidos tomados de Australia, a la flauta y las pastillas de cadenas grabando en Irlanda, y el pasador de los carillones de Nepal, esta canción a mí es como tomar un viaje alrededor del mundo en un plato musical …
Estoy muy ilusionado de compartir esta nueva aventura con todo el mundo. Después del video se libera también vamos a hacer un detrás de cámaras que hacen del video. Gracias chicos por todo su apoyo! Con oración, este video será lanzado la próxima semana! Estén atentos para más detalles.
William
May 23, 2012 blog, Cultural Programs, featured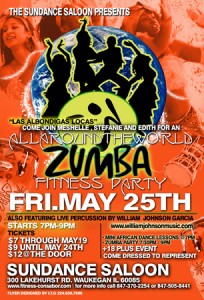 Headed to Chicago Friday for a large Friday night Zumba and African dance class. Click on link for more information. I will be playing percussion for the event. If you are in the area check it out! God bless you guys!
http://www.fitness-consabor.com/index.html