Archive for the ' blog ' Category
Apr 17, 2017 blog, featured, Learn Percussion
Hello all! I am excited about new projects coming up that I have been working on! On the academic route I am still plugging away at my thesis and will be finished with my ethnomusicology M.A. this summer! I am hoping and believing this will be the year that all of the plans for a drum and percussion academy in Downtown Southern Pines will be completed and I will be able to move forward in seeing this longtime dream manifest. I am still giving lessons online via Skype and also Whatsapp. Email me at williamjohnsonmusic@gmail.com for more information about music and percussion lessons. Whether you are desiring to learn more about percussion, or even taking some lessons on improvisation and building your musical theory ability, I am happy and available to assist you on your musical journey.
I have released a new song a few months back titled Your Presence and it is available here on itunes or on the following links:
Amazon: https://www.amazon.com/Your-Presence-William-Johnson/dp/B01MY5KNZ1
CD Baby: https://www.cdbaby.com/cd/williamjohnson5
This May I will be launching a new Youtube video performance series I am titling "Three Minute Studio Sessions." These sessions will be filmed and recorded mainly from my personal recording studio featuring various artists performing with me live including additional overdubs. The first episode is of a song called Dancing Trees and features harpist Eryn Jones-Fuson. Dancing Trees is a indie fusion song with a cinematic approach. I look forward to sharing it!
Until then my friends here is a small video clip captured from my iphone of a praise and worship song (Bless the Lord by Jermaine Rodriguez) I played percussion on at Christ Community Church in Pinehurst, NC. It was a beautiful time of worship unto the Lord!
If you are wanting to know more about this amazing song you can find it here!
Feb 26, 2016 blog, Cultural Programs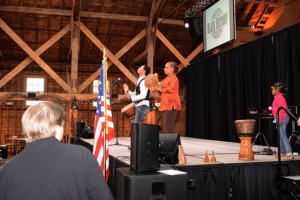 Last week was a beautifully busy week of music. On Saturday I was in Greensboro, NC for a rehearsal with Stephen Roach and Michael Pritchard of the band Songs of Water. The rehearsal was for a percussion trio that will be accompanying three very talented dancers during the second night of The Breath and the Clay Conference in Winston Salem. The conference features talented artists, authors, luthiers, musicians and dancers from around the country including John Mark Mcmillan, and Cindertalk. For more information visit thebreathandtheclay.com
On Sunday afternoon I performed on the djembe for the Moore County Black History Annual Celebration at the Fair Barn in Pinehurst, NC. The event was held at the Fair Barn on the Pinehurst Horse Race Track. The sun was shining and faces were smiling as the sound of the drum resonated throughout the building.
I also squeezed in a recording session and filmed a percussion performance video that I am very excited about. I will be uploading new videos soon to include music performance videos. The studio is live and kicking so if you are a singer songwriter, or have a band and interested in adding some percussion sounds and textures contact me at williamjohnsonmusic@gmail.com. I have a large collection of instruments from around the world and can record directly from my personal studio here in North Carolina.
Feb 9, 2016 blog
This past weekend I loaded up a small percussion rig in the "man-van" and headed to Southport, NC to perform for a fundraiser event. The event was held at the Southport community building which is right on the banks of the Cape Fear River where the Atlantic Ocean and the Intercostal Waterway join. I was blessed to perform with my Uncle Ciprian Garcia who was on acoustic guitar. My uncle Ciprian, or "Cip" as he is called by friends and family, moved to North Carolina from Chicago a few months back. We have since started a duo performing acoustic music styles ranging from indie singer songwriter, pop, blues, and latin. The following is a short video clip I captured on my iPhone and posted on my Instagram account. http://iconosquare.com/p/1177993689520579170_210590423 
It was a great time and the event was well attended. We were received graciously and will be playing in the Southport area again in April at Uncorked by the Sea. I will also be performing with a couple amazing percussionists including Stephen Roach of Songs of Water at the Breath & The Clay conference on Saturday March 5 in Greensboro, NC.
So far I am still pounding away on finishing my M.A. in ethnomusicology so it has been more of an academic/research season for me as opposed to constant live gigs. I am still able to practice on a regular basis (which is a part of my research an academic pursuits as well) however these days my focus has been more on instruction and research than anything else. I still play at my church and various local and regional ministries as well as studio recording sessions however. Currently I am playing at Grace church in Southern Pines. I have posted a couple photos below of me playing bongos during an acoustic set (from several months back) at the church. I love ministering with the team at Grace Church. If you are ever in the area and looking to visit a great church with friendly people then Grace Church would be a wonderful place to check out. Until next time friends!
Jan 1, 2016 blog
Hello everyone! A new year is upon us and I have been busy working on new projects. Below is a photo of part of my studio. I have been working on it all year and have had the privilege of recording percussion for at least two different projects. I will post some more photos in the near future as well as updating the website with information for those interested in hiring me to record on their project. I have a vast array of traditional and custom made percussion instruments that i have been collecting and making over the last twenty years available to professionally record for your next project. I love having the ability to record right from my own space.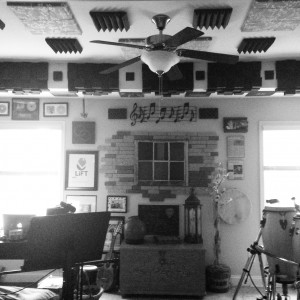 A couple of the projects I recorded on in 2015 were "Bright" by Scott Coats and "The Ethnos Project Volume 2" produced by Eric Lige, Andy Delos Santos and Vahagn Stepanyan. I will be writing a separate review for these two projects as well as others I participated on in 2015. The last few months have been an exercise of playing catch up for me. I do feel inspired however and am excited about things to come. I am nearly finished with the first two songs from my new album! Lord willing it will be released this spring!
Well, until next time friends…
Happy New Year and may you have a blessed 2016!
Mar 21, 2015 blog
New Music:
Spring has arrived and here in the southeastern region of the US the flowers are beginning to bloom. With spring comes new growth  in the environment and so it seems to be the same with my music endeavors. I have been busy preparing my personal studio in order to be ready to begin recording for a couple new projects including my fourth album. I am hoping to release my next album late summer. I am also currently working on another project I am helping to produce. I am very excited about it and look forward to sharing it with the world.
Cajon:
Billy Bonham of Bonham Cajons visited my studio last month to shoot a new video for the Heartbeat for Worship Cajon. The heartbeat for Worship Cajon has continued to impress with it's crisp highs and a powerful clean bass. The video will be released later this Spring in time for the 2015 Merl Fest (which Bonham Cajons will be represented for the second year as a vendor). To discover more about the Heartbeat For Worship Cajon visit www.bonhamcajon.com and https://youtu.be/L6xhkHKRpHY
Reviews:
Here are a couple reviews written this winter of my latest album Sacred Roots
http://www.solarlatinclub.com/william-johnson-sacred-roots/
http://www.salsa.it/recensioni_william_Johnson_sacred_roots.aspx
Lessons:
I am still currently accepting percussion students via Skype online. I teach congas, bongos, djembe, and more. For more details please feel free to contact me at williamjohnsonmusic@gmail.com
Hello everyone! It has once again been way too long for a post update! I have a new resolution to do this much more often! I know I have said that before so let's see how I do this year…
I have been super busy, and that has so far been a good thing. I recently traveled to California to visit family and friends. Of course I always try and do something musical when away from home, even when I am not traveling for some musical business. I was blessed to be able to visit a friend and musical colleague Alex Anders. I would have been happy enough just to have lunch with Alex and catch up, but I surely was not going to turn down a visit to one of his work spaces for the television show Glee! Below is a photo of me, my wife, one of my children, and Alex in Studio A at Capitol Records in Hollywood, CA.
My latest album Sacred Roots has been receiving great reviews so far. The project is also on the grammy ballot this year as a Contemporary Instrumental album. We find out very soon whether or not it will be officially nominated for a Grammy. To read an excellent review of Sacred Roots check out Michael Fors blog about it at http://insideworldmusic.blogspot.com/2014/08/cd-review-william-johnsons-sacred-roots.html
This past weekend I played a hybrid percussion kit for an acoustic worship set at Christ Community Church in Pinehurst, NC. Three services of truly memorable conversations, music, and worship. Below are a couple photos of the kit I played on.
Jun 4, 2014 blog, featured, Learn Percussion, New CD, Uncategorized
Hello friends!
I have been quite busy lately with music and life in general. My new CD "Sacred Roots" (Raices Sagrado) will be released August 12th!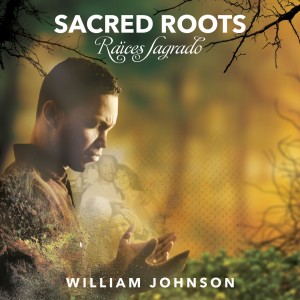 You can also watch a music video of the song "Como el Viento" from the album.

Also I still give percussion (congas, cajon, djembe, etc.) lessons online. Below is a recent video teaching series for learning the cajon in a contemporary setting. So if you would like to learn the congas, cajon, and more contact me at williamjohnsonmusic@gmail.com. I look forward to hearing from you!
William
Nov 2, 2012 blog, featured, Learn Percussion

Hello everyone! Many of you may already know that I also teach percussion online via Skype. I wanted to upload a video to give you an example of what a lesson with me may look and sound like. Of course, however, it all depends upon our connection speed but give me a shout and let's learn together! I teach hand percussion, timbales, basic music theory, ambient percussion (using different types of shakers, chimes, rattlers, etc. to add texture and color to the music), and more. If you have always wanted to learn how to play the cajon, congas, or how to apply world percussion in your ensemble, band, or worship team contact me and I will be in touch with you asap! It has been a blessing to be of assistance to so many from as far as California, Australia, the UK, and more! I look forward to hearing from you!
William
Sep 25, 2012 blog, featured, Learn Percussion
Sorry guys we have been about a week behind on the Volume instructional DVD.
Learn Percussion Volume 1; Congas Instructional DVD Pre-order today for only 15.00 including shipping! Item ships Friday Sept 28,2012
Sep 21, 2012 blog, featured, Learn Percussion
New Instructional DVD series! Today I will be posting a link to purchase the first in a series of instructional DVDs on how to play world percussion instruments. The link to purchase will go up around 7:30p.m. (look under products page). This first DVD will be on playing the congas. Some of the things taught in the DVD are;
– basic exercises to develop good tone
– basic to intermediate rudiments
– mano secreta
– Tumbao, guaguanco, bomba (xica), pop patterns
The DVD should be a great addition to your library and is only $12.00!